Case Study Curiocity:
Tribus345 was contracted by Tourism Events Queensland (TEQ) to work on the marketing, brand, digital and commercial programs of the Curiocity Brisbane project.
Curiocity Brisbane is an interactive, innovative, flagship event for Brisbane, supported by a close collaboration between Queensland Government, TEQ, Brisbane City Council and Brisbane Marketing, with Tribus345 the core external marketing and commercial agency.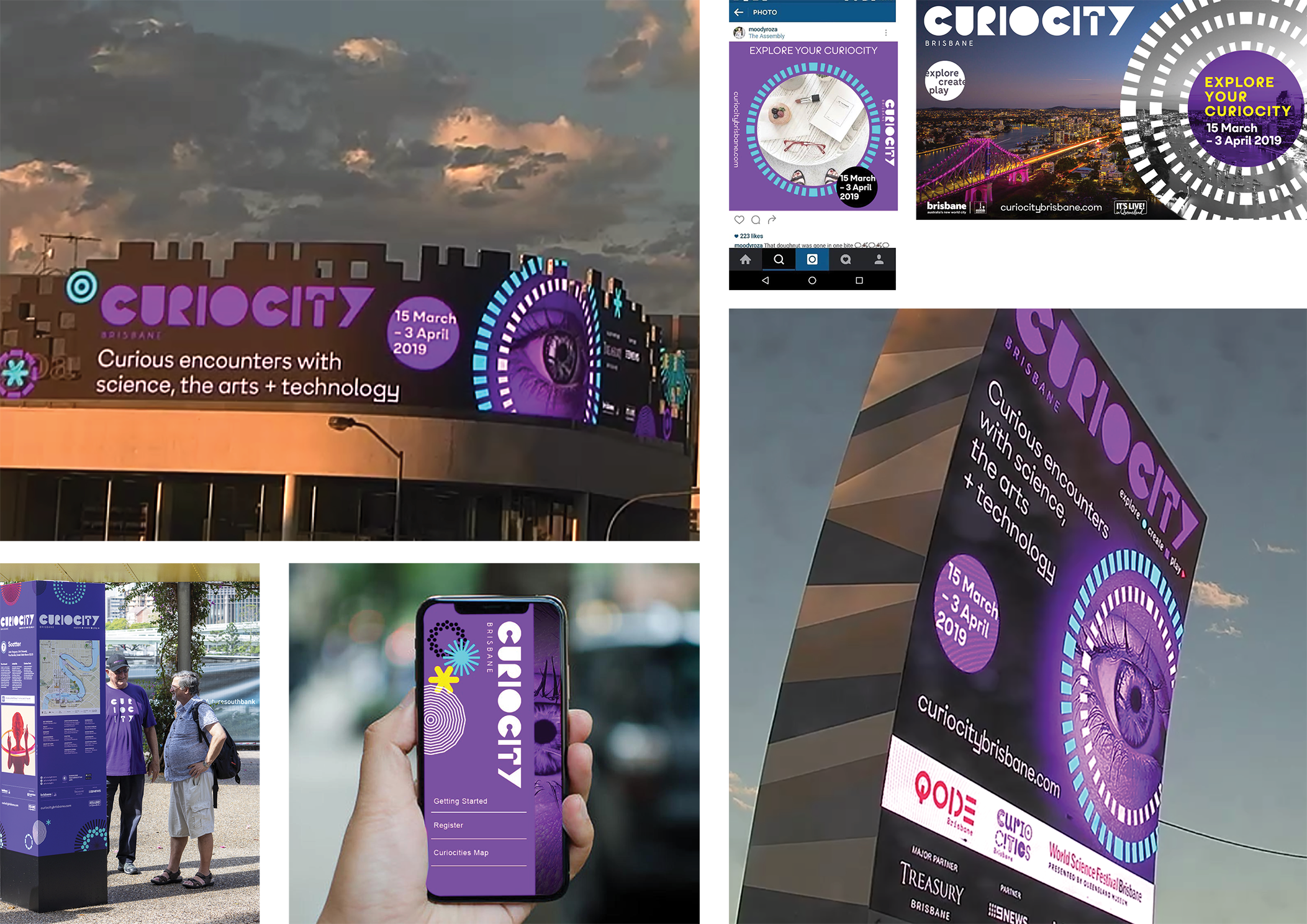 To truly understand our client, Tribus345 embedded a team member as a marketing manager into daily TEQ operations, a service we call our concierge service. This proved to be a great success with Tribus345 able to co-ordinate and liaise with multiple stakeholders on the project and provide a first point of contact for TEQ. This streamlined the communication process between us and the client and helped deflect any possible confusion over collateral creation and approval processes and ensured time frames were managed responsibly from all sides.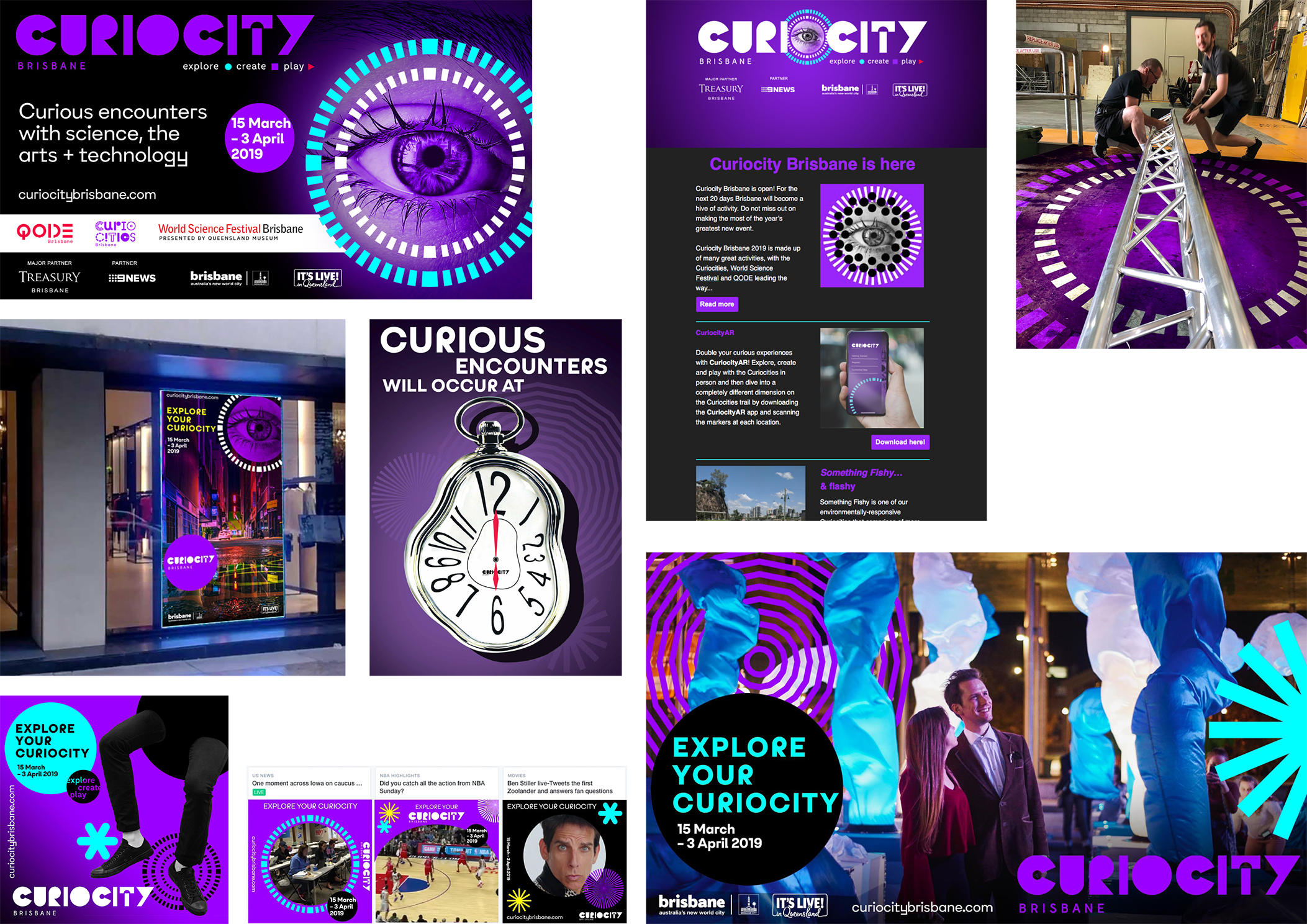 Tribus345 was responsible for all aspects of marketing for Curiocity Brisbane, and we successfully delivered:
Phase I and II of website:
Also provide platform for 2020 development
Developed App:
Augmented Reality AR
Digital:
Social Media:
• Ongoing content including dedicated Vox Pops, branded Curiocity images, branded facts and extra content.
• After-hours support and during event extended support
• Facebook Lead Ads
• Facebook like campaign
EDMs:
• EDM content to database
• Branded template and opportunities for sponsor integration
Channel 9 Brisbane TV (negotiated sponsorship)
• 3-week campaign
Cinema Brisbane campaign (negotiated sponsorship)
• 19 cinemas
• 162 screens – all 5 sessions
• 30,000+ placements
Brisbane marketing assets:
• 24 JC Decaux Premiere Brisbane Billboards
• 380 JC Decaux Citylights Syd/Melb billboards
• 180 Street Banners
• City Cat Digital Screens
• CBD Trifold
• Visitor Centre Post Cards and live screens:
• CBD Large Screens
• City Lights – Kurilpa Bridge and William Jolly Bridge
BNE Billboard
Airport Drive
Print media collateral
Women's Weekly: Full Page
News Limited Sunday Mail:
• Front cover strip + DPS pages 2-3 plus editorial
• Sunday Mail: March 17th/24th/31st General news strip ads plus editorial
GOA Digital Billboard Network
15 Supersites throughout Brisbane
Retailer Activation Program:
• A2 Posters
• 30cm Stickers
• 3 x Dot Postcards
• Digital screens
• EDM templates
• Digital branding assets
TMR Assets:
• Busway Panels
• EDMs:
• Website inclusion
• Social: March/April
South Bank Parklands:
• Visitor Information Centre Screen
• Brochure inclusion – Post Cards
• Carpark Signage
• LED Billboard
• What's on Board
• Insider's Guide
• Social Media package
World Science Festival Brisbane:
• Program Guide
• Logo inclusion on signage/banners/advertising
OoH Billboards (negotiated sponsorship)
15 Digital Supersites in Brisbane – 3-week program